The twenty-eighth edition of the "All married", The salon of the Haute Couture Wedding which has been held for years at the Mostra d'Oltremare of Naples, has given appointment to the twenty-ninth edition, closing the event with an exceptional guest; the Romanian model and actress Mădălina Ghenea. In totally black dress on the "I see I don't see" style and a dizzying gap, Madalina received the prize awarded by the Italian Family Observatory, on the occasion of the "Atelier Vanitas" fashion show, of which she was the testimonial.
The model was accompanied by her boyfriend Matei Stratan with whom he has been paired for some time. The two have observed the proposed collections with great attention, so much so that some journalists present have suggested that their marriage is imminent. Mădălina Ghenea, studied classical dance and piano, moved to Milan at the age of 15, starting her modeling career. She is one of the protagonists of the 2010 "Peroni" calendar and wins the cover for the monthly "Lady Sposa" in the same year.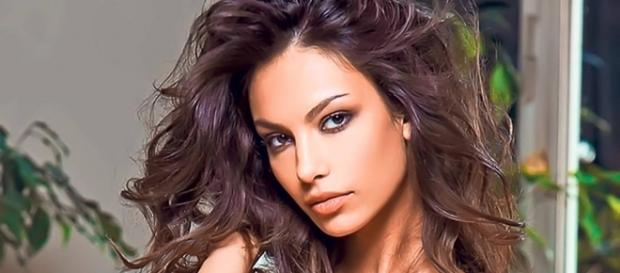 He participates as a competitor in the television program: "Dancing with the stars". His career ranges from commercials and film roles, whose debut takes place with "I Soliti Idioti – il film", directed by Enrico Lando. In 2013 receives the "Aphrodite Award" as a revelation of the year. Oscar winner Paolo Sorrentino chooses it for the cast of the film "Youth – Youth" of 2014. In 2016 Carlo Conti wants her as co-host of the San Remo Festival together with Gabriel Garko and Virginia Raffaele.
At "Tutto Sposi" he said that marriage is a sign of love that binds people together.
Words of solidarity also for the inhabitants of the areas hit by the earthquake of these last days. The event before closing its doors delivered the Awards of the magazine "Diva e Donna" – OFI – awarding a special prize to Carla Fracci, delivered to the San Carlo Theater in Naples. Other awards were presented to: Veronica Maya, to the twins Angela and Marianna Fontana, protagonists of the film "Indivisibles", Maria Nazionale, Nina Soldano and Claudia Ruffo representing the fiction "Un posto al sole", which this year celebrated 20 years and to the correspondent of "Repubblica" Conchita Sannino.
To receive the Lifetime Achievement Award, the stylist Carlo Pignatelli.