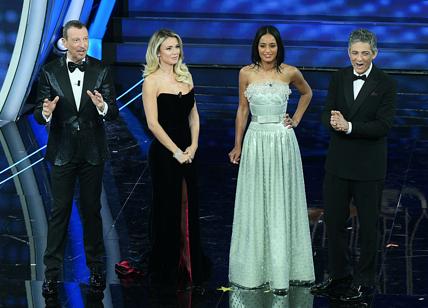 SANREMO 2020 – FIORELLO, AMADEUS DILETTA, LEOTTA AND RULA JEBREAL (photo Lapresse)
<! -
->
<! -
->
Listen to TV, Sanremo 2020: Amadeus flies in the share, viewers on TV go down
The Sanremo 2020 festival of Amadeus fly in share: the 52.2% is the highest average from 2005 onwards. That year it even reached 54.10% (to lead the Festival was Paolo Bonolis). Well the spectators in the first part (12.841.000) and in the second (5.698.000), better than the Baglioni bis so to speak (to 12,282,000 and 5,120,000 respectively). Well, good, bis. Overall average spectators drop: this year to 10.058.000, while in 2019 Baglioni conquered 10.086.000. Even two years ago it reached 11,603,000, even beating the numbers of the duo Carlo Conti-Maria De Filippi in 2017 (11,374,000) and the two previous editions of Carlo Conti himself (11.134.000 and 11.767.000).
Listen to TV, Sanremo 2020 and the boom of RayPlay
In short, he is right Fiorello – brilliant protagonist in the beginning of this Sanremo 2020 – to exclaim 'Shit! "reading the data of the share. Some tv viewer on Tuesday 4 February he preferred to do more than tune in front of the television. However, it should be stressed that ai tv listening numbers the super ones from the live streaming of the early evening Sanremo Festival 2020, which on RaiPlay generated 617 thousand views and the peak was recorded at 22.53 with Albano and Romina Power's medley. Not only. The contents dedicated to Sanremo 2020 festival on February 4th they also spawned on YouTube 2.6 million views on demand, recording a 40 percent increase over the 2019 Festival's prime time.
Sanremo 2020
Leads Amadeus
10.058.000 spectators Share 52.2% share
Sanremo 2019
Claudio Baglioni leads with Virginia Raffaele and Claudio Bisio
Attendance: 10.086.000 Share: 49.5%
Sanremo 2018
Claudio Baglioni leads with Michelle Hunziker and Pierfrancesco Favino
Attendance: 11,603,000 Share: 52.1%
Sanremo 2017
Carlo Conti leads with Maria De Filippi
Attendance: 11.374.000 Share: 50.37%
Sanremo 2016
Carlo Conti leads with Virginia Raffaele, Gabriele Garko and Madalina Ghenea
Attendance: 11.134.000 Share: 49.48%
Sanremo 2015
He leads Carlo Conti with Arisa, Emma and Rocio Munoz Morales
Attendance: 11.767.000 Share: 49.34%
Sanremo 2014
Fabio Fazio leads with Luciana Littizzetto
Attendance: 10.938.000Share: 45.93%
Sanremo 2013
Fabio Fazio leads with Luciana Littizzetto
Spectators: 12,969,000Share: 48.20%
Sanremo 2012
Gianni Morandi leads with Rocco Papaleo and Ivana Mrazova
Attendance: 12.764.000Share: 49.69%
Sanremo 2011
He leads Gianni Morandi with Belen Rodriguez, Elisabetta Canalis and Luca e Paolo
Attendance: 11,992,000 Share: 46.32%
Sanremo 2010
Antonella Clerici leads
Attendance: 10.718.000 Share: 45.29%
Sanremo 2009
Paolo Bonolis leads with Luca Laurenti
Attendance: 10,114,000Share: 47.93%
Sanremo 2008
Pippo Baudo leads with Piero Chiambretti, Bianca Guaccero and Andrea Osvart
Attendance: 7.680.000 Share: 36.46%
Sanremo 2007
Pippo Baudo leads with Michelle Hunziker
Attendance: 9,760,000 Share: 45.44%
Sanremo 2006
He leads Giorgio Panariello with Ilary Blasi and Victoria Cabello
Attendance: 9.141.000 Share: 44.45%
Sanremo 2005
Paolo Bonolis leads with Antonella Clerici and Federica Fellini Spectators: 12.218.000Share: 54.78%
Sanremo 2004
He leads Simona Ventura with Paola Cortellesi, Maurizio Crozza and Gene Gnocchi
Attendance: 10.104.000 Share: 42.48%
Sanremo 2003
Pippo Baudo leads with Serena Autieri and Claudia Gerini
Attendance: 9.257.000Share: 42.55%
Sanremo 2002
Pippo Baudo leads with Manuela Arcuri and Vittoria Belvedere
Attendance: 12.461.000Share: 56.22%
Sanremo 2001
Raffaella Carrà leads with Megan Gale, Massimo Ceccherini and Enrico Papi
Attendance: 12.160.000 Share: 51.98%
Sanremo 2000
Fabio Fazio leads with Luciano Pavarotti, Teo Teocoli and Ines Sastre
Attendance: 15.907.000 Share: 57.18%