Madalina Diana Ghenea is a Romanian model and actress, she is born in Romania on 8 August 1988 under the Zodiac sign of the Lion, it is high one meter eighty centimeters, weight not available, his measures I'm 89-61-89 and have brown eyes and hair.
For years Madalina studied classical dance and piano, but at the age of fifteen she began working as a model. Madalina leaves her homeland to move to Milan, but despite this, she remains as a waitress at different homes and does not completely give up studies.
Madalina then took part in the video clip in 2007 "The time between us" of Eros Ramazzotti. It has also been testimonial of the 3.
There are also several television programs in which he took part, such as: Dancing with the Stars 7 (Competitor), The Usual Idiots, The Borgias, 66th Festival of the Italian Song of Sanremo (Co-host).
Furthermore Madalina took part in several films, such as: The usual idiots, Dom Hemingway, Youth – Youth, Zoolander 2, Smitten !, and several others.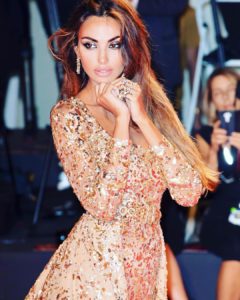 In private life was linked from 2012 to the summer of 2013 with the actor Gerard Butler. Until January 2014 it was linked to the Irish actor Michael Fassbender. From the relationship with the Romanian entrepreneur Matei Stratan, the couple on 4 April 2017 becomes Charlotte's parent.
You can follow Madalina on her Instagram profile @officialmadalinaghenea.