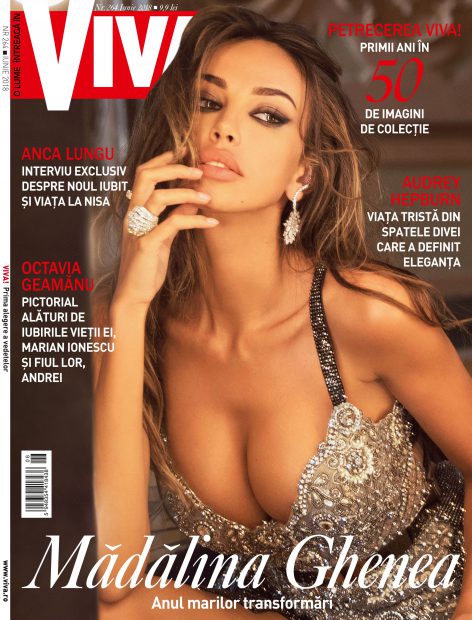 What do you consider to be the greatest professional achievement so far??
The fact that I had the opportunity to take care of Charlotte, without this negatively affecting my career. Which shows that I managed to surpass that level of the career of a woman who is influenced by the appearance of a child. Thank God that the joy that every mother feels at birth has not been affected by worries that the appearance of a child could affect her career!
Do you think you paid the price of the celebrity? If yes, what did it consist of?
I paid with the tip and stuffed this celebrity price, but I paid it because there is a lack of regulation in the national media. Actually, regulations exist, but they are ignored. Everyone has fundamental rights, and among them is the right to one's own image. A man who is known, an actor or a singer has the same rights as all people. I am interesting to the public, but by no means am I a person of public interest. For this reason, I have the right to limit the appearance of my image in the press. If I were a minister or a parliamentarian, I would have been a person of public interest and things would have changed.
What is the secret of a successful relationship, in your opinion?
Don't get married. (laughs) I'm kidding! I admit, my marriage is scary.
Chas changes brought the status of mother in your life? How have you changed, as a man, in the meantime?
Huge changes. I'm another man. Nothing compares to this experience. I look at the acting samples given before Charlotte, I am amused and I realize how much I have gained through this experience. Just two years ago, before I had Charlotte, I didn't know love, I knew love, I didn't know sacrifice, and that's about all I want to talk about my private life. I have to draw a line between what I do for the public and what represents my life behind the cameras.
The complete interview with Mădălina Ghenea, as well as other interesting information can be found on viva.ro, but also in the magazine of June, which is already at newsstands.
READ IT
Andreea Marin still has trac if she speaks in public. "On the day when I will no longer have emotions, I will no longer be able to convey emotion"
GSP.RO
Who is the Norwegian paid by the City Hall with 14,200 euros per month. Is it the highest budgetary salary a foreigner receives?
Watch the latest VIDEO