When everyone sees her in a wedding dress, Madalina Ghenea is alone again. It seems that the passion for designer Philipp Plein lasted only two months.
After declaring their love in public and tattooing each other's names, Philipp deleted all his photos and movies with Madalina. She would have been upset when the millionaire tried to reconnect with his ex-girlfriend.
On March 11, Philip and Madalina declared that they were madly in love. Madalina tattooed his name on her neck, and the German millionaire wrote Madalina on his arm. In less than two months, the two got engaged and, as a great gesture of love, they both tattooed a cross-shaped ring on their fingers. It all happened at the speed of light. As quickly as they evolved, their relationship ended.
The apple of discord would have been a conversation between Plein and his ex-girlfriend.
Only a few days after he got engaged in Paris to Madalina, the designer would have tried his best to get in touch with Oxana Zagumennova, upset that the model had deleted him from his friends list. Madalina allegedly found out about the discussion from Oxana, which annoyed her. So she took revenge on the German by posting on her Instagram page the discussion between the two.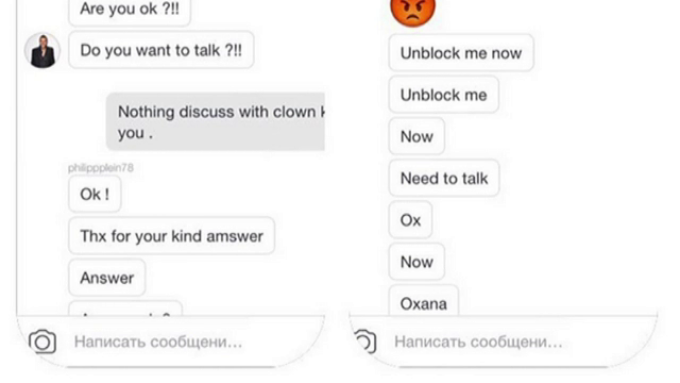 He later wrote on Facebook: "The most cowardly thing a man can do is make her fall in love with him without intending to love her."
So far, Madalina Ghenea has refused to tell what happened between her and the German millionaire.
Unfortunately, these kinds of separations are not foreign to him at all. The Romanian woman was also involved in short-term relationships with other famous men, including Leonardo DiCaprio, Lewis Hamilton and Gerard Butler.
.