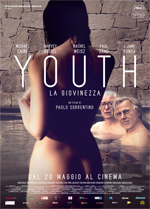 Directed by Paolo Sorrentino. A Film with Michael Caine, Harvey Keitel, Rachel Weisz, Paul Dano, Jane Fonda, Neve Gachev, Ed Stoppard, Alex MacQueen, Tom Lipinski, Madalina Ghenea. Drama – Italy, France, Switzerland, Great Britain, 2015.
In an elegant hotel at the foot of the Alps, Fred and Mick, two old friends on their eighties, spend a spring break together.
Fred is a retired composer and conductor, Mick a still active director. They know that their future is quickly running out and they decide to face it together. They look with curiosity and tenderness at the confused life of their children, at the enthusiasm of the young collaborators of Mick, at the other guests of the hotel, at those who seem to have a time that is not given to them. And while Mick is struggling to end the script of what he thinks will be his last and most significant film, Fred, who has long since given up music, does not intend to retrace his steps. But there are those who want at all costs to see him direct once again and listen to his compositions.
GO TO THE COMPLETE CARD
.