On the occasion of the presentation of the film by Paolo Sorrentino in Cannes, we met the young actress and former model among the interpreters of Youth. "Sorrentino gave me a gift: he made my body and youth immortal."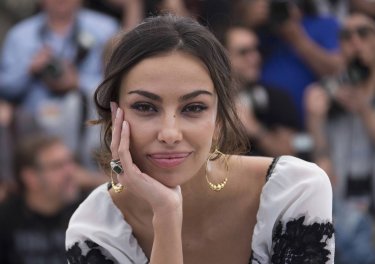 Romanian by origin, but Milanese by adoption for her modeling career that began when she was still very young, Madalina Ghenea has recently made its first steps in the world of acting: some video clips, a little television, participation in the third season of I Borgia, the first appearances in the cinema and now, finally, the great visibility on the big screen thanks to the role in Youth – Youth by Paolo Sorrentino, for a film career that seems definitively launched and that will see her soon in Condemned to Love and Zoolander 2.
It is however for the role in Youth that we met her in Cannes, where there is a part of her in particular that attracted general attention, the so-called side B which stands on the poster of the new work of the Italian director and who has not failed to create some embarrassment for her. Yet Ghenea in the film is not limited to being only a body: she speaks little, it is true, but she pronounces one of the strongest lines of the film, as well as casually keeping the scene alongside film monuments such as Michael Caine and Harvey Keitel. An experience that could not fail to arouse our curiosity.
From fashion catwalks to youth posters in Cannes
Fashion launched her, but it's not her life. "It's not what I wanted to do," she tells us serene, "I am grateful to the world of fashion, because it launched me and brought me here, but it was a means." It is a world that, evident from his words, has created many frustrations for her and does not love and be at Cannes 2015 it is a goal that she is clearly proud of. "This experience has changed me," He tells us, "I see life differently now and I think I am lucky at my age to have already achieved such goals."Yet there is that embarrassment of being on the poster of one of the most important films of this festival with an intimate part of one's body in evidence. "If I feel embarrassed? The fashion world is the one with the most complexes I've ever seen, so it's normal for me to have a certain modesty to show myself naked, something I've never done before. But I don't think it's the the only thing that draws attention in that poster, that diverts attention from Michael Caine and Harvey Keitel. Rather I ask you: where do you think they look at them? "
And on them he has words of great esteem and respect. "I had a thousand paranoias for the nude scenes, but Caine and Keitel were able to make everything normal and natural. Even the embarrassment that was after reading the script, on the set disappeared."
Sorrentino's teaching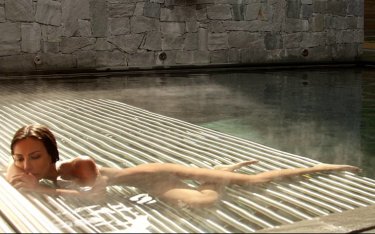 It strikes us that she said she saw life differently now, we ask her why. "One of the important messages of the film is the parent-child relationship and dedicating time to things that are really important in life. That's why I now look at my parents differently." But that's not the only aspect that struck her about the film. "I haven't seen the whole film yet, only a few sequences that have struck me. The massage scene, for example, which makes us understand how important human contact is in a world dominated by technology. It is not a scene related to my character, but it's a teaching I got from the film. "
But she feels that Paolo Sorrentino has also given her a gift: "he used my body and my youth making it immortal. I did it now, at the age of 27, I don't think I will be able to do much in the future." But it is clear that when he speaks of "using" he does not mean as an object woman. "No, I don't see my character like that, after all when they sent me the scene to study for the audition is the only one where I speak and say something very strong. He is not an empty character, he is a perfect muse who however it shows all its imperfections when you look at it closely. " Nor does it displease that a Miss Universe gives a strong response like the one she interprets in the film: "If it happened to me in life? Absolutely yes. I think Sorrentino chose me because in the audition I put all the frustration of years of work passed to be judged only for the physical aspect." An audition that initially performed differently than requested by the author. "I always try to do it my way, at least initially, then I also draw on the director's directions. In this case it worked well."
The future, between cinema and fears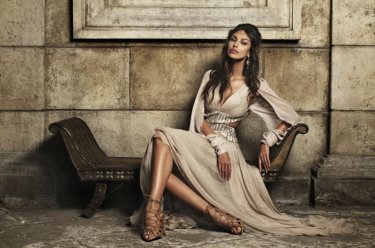 For the foreseeable future, the next stages of a film career now launched, there are already three projects at stake. "First of all I will be on the set of an important American film with actors I love very much." It's about Zoolander 2? Most likely yes, even if you can't confirm it directly (the agencies have done it for you). Then it will be the turn of Condemned to Love, romantic comedy directorial debut of Oscar-winning screenwriter Barry Morrow, and finally on an Italian set for a starring role. Yet the future scares her a little, perhaps still marked by some ideas from Youth: "The scene with Jane Fonda makes me think of the director / actor relationship in the world of Hollywood, it is a scene that makes me rethink Birdman and that from what I understand tells a sad reality. I also had agents who pushed me to do something for money, while I've always tried to choose the one that inspired me at the moment with the idea of ​​building something for the future. " A future that also has personal fears for Ghenea, perhaps still marked by a film that talks about the passage of time. "It frightens me to lose loved ones and the child in me and I hope to carry my whole life with me. Like Michael Caine who gave applause answers at the conference and still shows the enthusiasm of a boy!" We wish you to succeed.